December 2019 Update
The torch has been passed in the St. Paul Branch. Earlier this month, Jerry LaBarre retired from the Postal Service and relinquished his position as St. Paul Branch President.
This created a vacancy which was filled by the Local Executive Board under the provisions of the Local 323 Bylaws. I am pleased to announce that the Local Executive Board has selected Edward Yun to fill this vacancy. He will serve the Membership in the capacity of the St. Paul Branch President for the remainder of the term. The Local Executive Board's vote selecting Ed was unanimous. This underscores our confidence in Ed's ability; and, I stand ready to provide any support needed to ensure his success.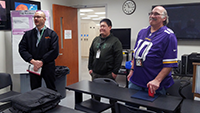 I went to the St. Paul plant for what could be best described as a joint retirement party and Officer installation. Many Members came to congratulate Jerry on his retirement and congratulate Ed on his installation as Branch President. National President Hogrogian had authorized me to administer the oath of office to Ed. Jerry provided advance notice of his retirement and this allowed us to have a smooth transition. At least, as smooth a transition as is possible during December in the Postal Service. In fact, Ed has already demonstrated his commitment during adverse circumstances. Well done, keep it up Ed. Click on the picture to see additional photos from Ed's installation.
Turning to our esteemed retiree, Jerry LaBarre is certainly deserving of recognition. For more than 20 years he served the Members of the St. Paul Branch as a Steward, Chief Steward, and for the last 7 years, as Branch President. His accomplishments in addressing issues and processing grievances have greatly benefited the Membership. He can be proud of his record and we all wish him the best in his retirement. Congratulations Jerry, you will be missed.
I've assembled a few photos of Jerry over the years which you may view by clicking on the picture.
Best wishes to all for a happy and joyous holiday season.
JL