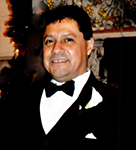 2022 Matt Lopez - Local 323 Scholarship Program
The Local Union Council is pleased to announce the opportunity to apply for the 2022 Matt Lopez – Local 323 Scholarship Program. The Scholarship Program was established in the fall of 1995 and was renamed to honor Matt Lopez in 2018. Matt Lopez served the Local Union and the Minneapolis Branch for more than 25 years prior to his untimely passing in July of 2017. He was our coworker, our friend, our Steward, and he will forever remain our Brother.
The 2022 Scholarship Program provides a $800.00 per school year award beginning in September of this year. Scholarship payments may continue for up to 4 consecutive school years. Copies of the rules for the Scholarship Program and Official Application Forms will be provided to all Branches and made available at the Local 323 office by June 1, 2022.
Applications may only be submitted from June 1, 2022, through June 30, 2022.
Any graduating high school senior who is the son, daughter, or legal ward of a regular member in good standing may apply. Good standing is defined by Article V, Section 1, of the Uniform Local Union Constitution of the National Postal Mail Handlers Union. Applicants must complete an Official Application Form and provide the required information. All applications must be received at the Local 323 office by 5:00 P.M. on June 30, 2022.
2022 Scholarship Rules and Application