May 2020 Update
Another day in the pressure cooker?  We continue moving forward during some of the most adverse conditions that we have ever faced.  We are fully engaged on the legislative front with writing letters, sending emails, and phoning our Congressional representatives. Our purpose is to advocate for legislative relief for the Postal Service.  Our efforts at additional career conversions are in full swing and we are seeing some successes in that area.  Implementation of the 2019 National Agreement remains underway and grievance activity remains as steady as ever.  Meanwhile, we are dealing with issues related to the COVID-19 pandemic which need to be continuously monitored.  And most recently, the Local Office had been impacted by the civil unrest occurring throughout the cities of Minneapolis and St. Paul.
I have personally contacted the Minnesota Congressional delegation on multiple occasions and North Dakota State Executive Board Member Brock Engstrom has similarly contacted the North Dakota Congressional delegation. This began by sending a letter to each representative which requested their support for legislation that would provide appropriate relief to a Postal Service struggling under the strain of the COVID-19 pandemic.  We do not approach our advocacy on a partisan basis, rather we contact all representatives and asked for their help.  As a Local Union our advocacy goals are clear and simple.  We only advocate on issues that are in the interest of all our Members and that includes a secure future for the Postal Service.  There are times when the interests of the Membership and the Postal Service diverge; although, right now they are pretty much aligned.  In any case, our letter writing campaign produced some commitments of support and some acknowledgments of issues.  A couple letters remain unanswered.
Follow up continued through email and phone calls.  Every request from the National Union resulted in calls to Congressional offices and the Capital switchboard.  Our designation as essential workers during the COVID-19 pandemic has resulted in a heightened interest toward Postal issues in Congress.  So, this is a time to remain focused on those issues.  We will continue our efforts to ensure that the voice of our Members is heard by both the Minnesota and North Dakota Congressional Delegations.
The conversion of MHAs to career is currently underway in several Branches.  Significant numbers are being converted in some locations, while in other places the pace is more incremental.  Regardless of the numbers, we are running up against delays in administrative processing.  This seems to be result of diminished resources due to the COVID-19 pandemic and we are seeing similar issues regarding the hiring of new MHAs.  The Branch representatives continue working to overcome new obstacles and are doing good work in this area.
Implementation of the 2019 National Agreement is well under way.  The Semi-Annual Meeting of the Local Unions (which was held on the internet via Zoom) has a session that covered the changes to our contract.  St. Paul Branch President Edward Yun joined me for this meeting. 
The COVID-19 pandemic continues to impact our lives both in and outside of work.  We continue our efforts at following guidelines and enforcing the provisions of benefits established in response to the situation.  Often, we find ourselves double checking our information to make sure that we are working with the most recent materials.  There is a commitment among your Officers and Representative to ensure that all Mail Handlers receive every benefit to which they are entitled.  Still, the best way to protect yourself at work is to follow the guidelines that have been put in place.  If social distancing is not possible please wear a mask; if not for yourself, then out of courtesy for your coworkers.
Regrettably, I must inform everyone that the Picnic scheduled for late June has been postponed.  The Local Executive Board held off on this decision until it was clear that having such an event would not be feasible.  We had no guarantee that the pavilion would be available, or that the amusement park and zoo would be open.  Moreover, we did not know how our group could comply with the social distancing requirements imposed by the city, nor could we guarantee that sufficient hand sanitizer, Clorox wipes, and masks would be available.  Accordingly, the consensus of the Local Executive Board was that it would not be feasible or responsible to hold the picnic at this time.  You cannot eat a hot dog while wearing a mask.  Certainly, we will discuss the possibility of an alternative date; although, under the present circumstances, I would not be surprised if the picnic ended up being postponed until 2021.
On May 1st, the Judges of Election held the nomination meeting to fill our Officer positions for the next three years.  That seems like a long time ago now.  All continuing and new Officers were declared duly elected by acclamation.   The term of office begins on August 1st and in the future I will cover this topic in more detail.  For now, suffice it to say that I am pleased with the team we will have going forward, and I believe it will serve the Membership well.   
For close to 30 years the Members of Local 323 have owned an office building on Selby Avenue in St. Paul.  Unfortunately, civil unrest has erupted in the area. That has resulted in neighborhood businesses closing and boarding up their buildings.  We have taken all steps possible to protect the Members property.  I would like to express my sincere thanks to Treasurer John Frey, Recording Secretary Dean Abatte, and MN State Executive Board Member Shane Ryden for helping me secure the Members property and possessions.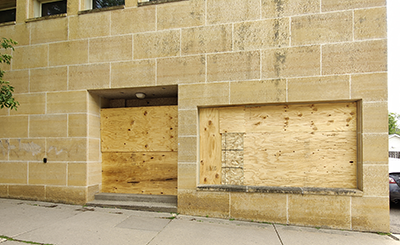 The Local Office Building on May 29, 2020.
Lest I forget where I started, I began with the question: Another day in the pressure cooker? That was a question from a Member that I've known for many years. He called the Local office to discuss a couple of issues and asked my how it was going. Perhaps I was too candid with my response. Regardless, under the present circumstances, there might be something to that question.
JL